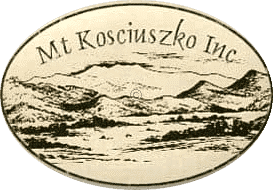 Mount Kosciuszko Incorporated - Our Aims
The Mt Kosciuszko Incorporated is a non-for-profit Association of Polish emigrants, was established in Perth, Western Australia in 2002 to raise public interest in the early history of Mount Kosciuszko and P. E. Strzelecki's cultural contributions.
Our missjon…

The lowly objective presentation of the latest history of geographical discoveries in Australian school programs and some mass media is a challenge to patient information dissemination, based on archival sources, authoritative historical literature, especially in English, as well as in Polish.
The surest way to achieve this goal is seen in the popularization of Paweł Edmund Strzelecki's form and merits in the local society as well as through the preservation of the historical truth about the mountain, its conqueror and the name given by him.
Logo of our Association:
Our logo was created on the basis of an illustration which was placed in the book by L. Paszkowski's titled: "Sir Paul Edmund de Strzelecki. Reflections on his life" and signed:
" Second sketch (…one of five which were possesion of James Riley z.l.) inscribed » Mt Kosciuszko the highest summit of Munyang in Australia. March 25th 1840 «. It is obvious that Kosciuszko was the whole massif and not a particular peak".
The original sketch is in La Trobe Collection, State Library of Victoria.
Please help us to build this "Mt Kosciuszko Inc." website - send your material.
We have an extensive collection of source materials, which we quote on our website, as well as scans of many books on P. E. Strzelecki, that we make available for to all interested parties.
Link to our website
If you want to put a link to english version our page on your website, just copy the code from the box below.
The link will contain a ready graphic element of our logo.
Also, please let our Secretary know (on the address below - please-click contact us).
The our main website address is: _mtkosciuszko.org.au
Promote our materials and website to yours websites.
Keep this link on yours of profile Facebook or _Twitter_
---
It's worth knowing that …
… our website and server are financed exclusively with individual donation made for our Association.
Anybody, who thinks that preservation of the name Mount Kosciuszko is necessary and would like to support financially the Mt Kosciuszko Inc., is most welcome to send a cheque / money order (AU$ - US$ or in another currency) written to the Mt Kosciuszko Inc. (please find the full account name in our Member's Declaration - it see on part below)
Every individual donation helps us in our activity.
Be part of it - join us now. Membership is open to all ages.

Certificate of Registration mtkosciuszko.org.au Domain Name to check now

Since 15 th December 2007 our official _representative_ in Poland is Mr. Zdzisław Leliwa.


The main goals and tasks of our Association:
to promote community awareness regarding the life of the explorer Paul Edmund Strzelecki, including his role in the development of, and in the early history of Australia, his input in science and explorations, and in the development of modern notions of society and social justice;
to support and encourage publications, screenplays, television series, and a feature film about P. E. Strzelecki;
gaining the interest of writers, producers, and directors in the production of such a television series and / or film;
assisting in the distribution of any television series and / or film;
engaging in promotional activities in support of these aims, by use of the electronic and printed media, and public lectures and / or exhibitions;
The appointment of an initiative group whose task will be the formation of a permanent panel who could work up to the realization of our next great intention:

— the creation of a P. E. Strzelecki Museum in Australia.
It would collect all the available archives in the form of a material and multimedia presentation;
raising funds in support of the aims of the group/association, through, amongst others, membership subscriptions, and funds raising activities.

You have an idea for other forms of our activity - send a message to the address given in the menu tab "Who we are - Contact Us".
We are seeking new members, as well as membership renewals to assist our organization. If you feel that you can contribute _ please-click & contact us.
---
Our website is created and maintained by:

— maintenance and layout of all the site until to 2008: Maciek Wilczyński.

— maintenance from 2008 as well as updating the entire interface eng / pl in 2019 to the mobile version: Zdzisław Leliwa — e-mail: mtkosciuszko@wp.pl